Drops Of Youth
Hi semuanya!
Hari ini aku kembali mau menebarkan racun di blog ku, hayooo dompetnya dijaga ya girls! Hahaha..
As you guys can see from the title, hari ini aku mau share pengalaman ku setelah menggunakan rangkaian skincare Drops of Youth dari The Body Shop.
Seperti yang kalian tau, kulit aku tuh bukan tipikel kulit yang rewel. Masalah di kulit ku paling cuma komedo, kusam, dan agak kering aja dibeberapa tempat karena suka di dalam ruangan ber-AC. Jerawat suka muncul kalau lagi datang bulan aja, itupun cuma 1-2 buah. Jadi aku bener-bener butuh skincare yang bisa membuat kulit aku lebih bouncy dan cerah.
Thank God aku bisa cobain rangkaian Drops of Youth ini! Sebenernya aku udah pernah coba sebelumnya, tapi dulu cuma ada pre-serum nya aja (and I loved it so much!). Nah sekarang dia sudah berkembang jadi ada essence lotion, moisturizer, sampai mask nya.
The Body Shop DROPS OF YOUTH Essence Lotion
Produk ini aku pakai setelah toner, fungsi nya untuk memberi kelembaban ekstra dan menyeimbangkan kadar air di kulit supaya produk yang setelahnya mau dipake lebih gampang nyerapnya. Meskipun essence ini lebih kental dari yang pernah aku coba, tapi tetap cepet banget nyerapnya dan gak kerasa lengket sama sekaliii.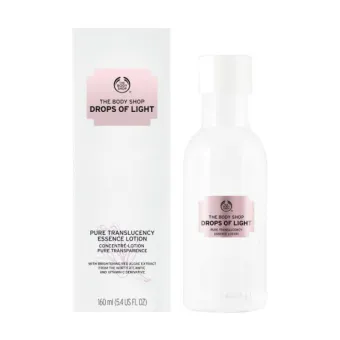 The Body Shop DROPS OF YOUTH Concentrate
Bagi yang belum tau, produk ini bisa juga disebut pre-serum. Jadi dipakai sebelum serum dan moisturizer. Efektif banget dan cepat menyerap ke dalam tanpa meninggalkan residu di kulit, makanya 2-3 tetes aja udah cukup for one whole face. Setelah pakai produk ini kulit ku langsung terasa kenyal, halus dan lembab 🙂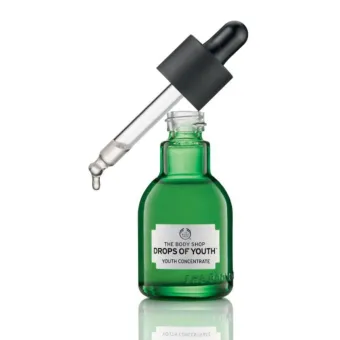 The Body Shop DROPS OF YOUTH Liquid Peel
Meskipun sudah pakai serum, moisturizer harus tetap digunakan untuk mencegah terjadinya penguapan dan menjaga kelembaban di kulit kita. Sama seperti produk yang lain moisturizer ini juga mengandung sari bunga Edelweiss, Sea Holly, dan Criste Marine. Mungkin saat kamu lihat, cream ini tekstur nya agak thick ya. Tapi begitu di apply ke wajah, it blends like a dream!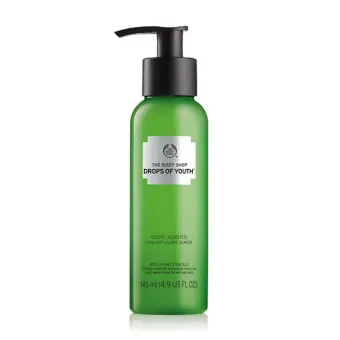 The Body Shop DROPS OF YOUTH Bouncy Sleeping Mask
Yep! Masker ini memang dipakai selama kita tidur. Setelah pakai serum/concentrate, langsung pakai ini aja nggak perlu moisturizer lagi. Biasanya kalau pake cream malam aja wajah ku masih suka kering keesokan harinya, tapi begitu pakai ini wajahku terlihat lebih cerah dan rasanya lembabbb banget.
Mungkin kalau kalian lihat ingredients nya, produk ini mengandung alcohol di urutan ketiga (which means, kandungan alkoholnya agak banyak dalam produk-produk ini!). As we all know that alcohol isn't good for our body, begitu juga di kulit kita.
Tapi ternyata, disini alcohol yang dipakai adalah Benzyl Alcohol yang terbuat dari tanaman kayak Balsam Peru, Canaga Oil, dan Jasmine, jadi gak akan membuat kulit kita kering dan panas seperti alkohol lainnyaa.. So you don't have to worry 😀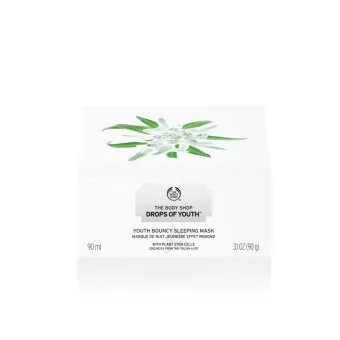 Nah, overall aku sukaaa banget sama rangkaian skincare Drops of Youth ini, karena mereka benar-benar bisa mencerahkan dan mengembalikan tekstur kulit ku lagi! Pre-serum nya juaraaa!